Introducing the World's First
100% Online Rest Hours Solution
No IT Support Needed from Your Team
No Installation On-board Required
Single View for Ship and Shore
Comply with rest hours rules by ILO, MLC 2006, STCW 2010, OCIMF | Automatically add flag regimes: Japan, US OPA 90, HKMD
Created by Mariners, For Mariners
Switch to the

Most Comprehensive

Work and Rest Hour Software
Created by people who understand the marine industry, our rest hours software includes everything you need to achieve compliance with rest hours rules of MLC 2006, STCW 2010, and much more. The interface is intuitive and makes it very easy to plan work and rest hours. Being 100% cloud-based, you can get instant alerts for non conformities and monitor rest hours status across your fleet in real time.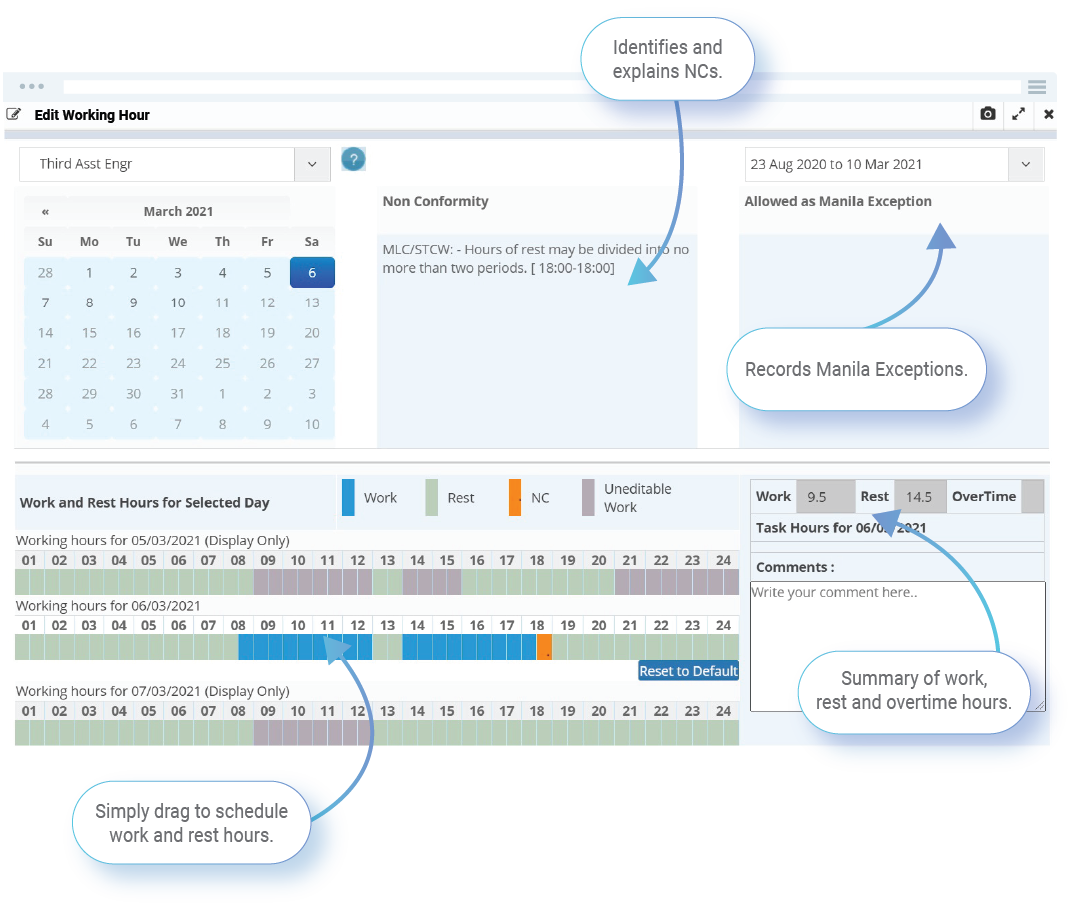 Start Using the

Lite Version

Now
Real-Time View from Ships to Shore
Our rest hours software is 100% cloud based and enables shore office review of data in real-time. View the overall status of rest hours compliance across your fleet and drill down as much as you like into the data of any ship.
Real-time data from all ships
Instant reports for audits
Different dashboards for superintendents and fleet managers
Highlights fleet-wide action items
Set up fleet-wide alerts for NCs
Course correction in the event of an NC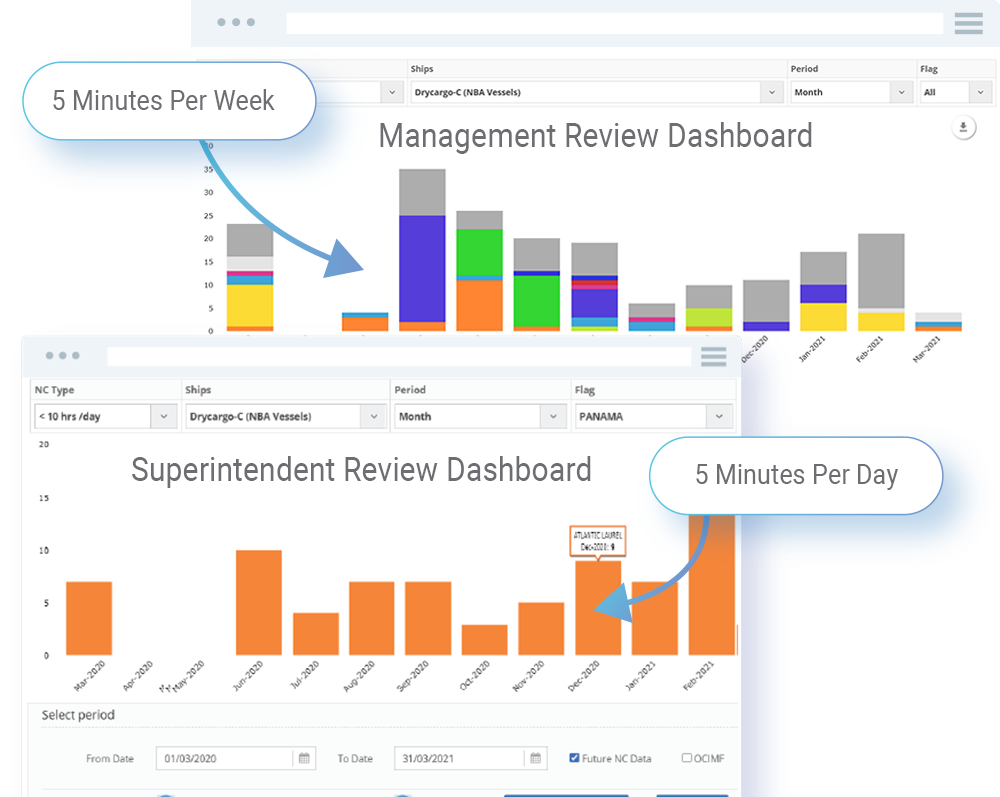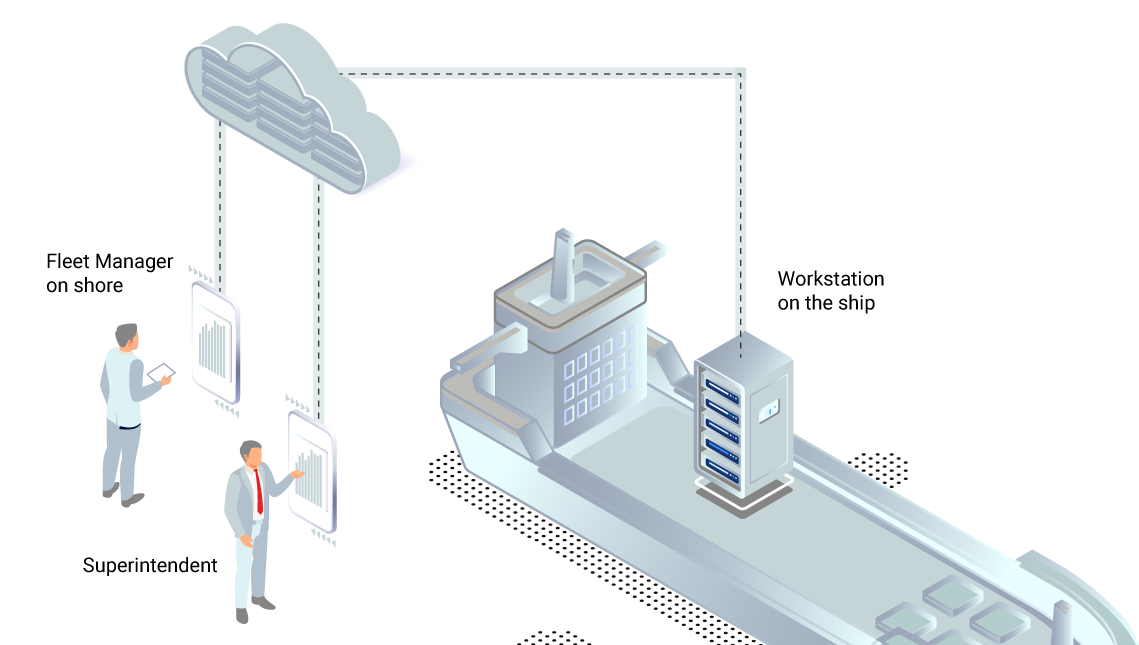 When We Say Cloud-based Installation, We Mean 100% on Cloud.
Our rest hours software is 100% cloud-based. So, no installation of any hardware is needed to begin using it.
No training is needed. Your crew can begin using our rest hours software from Day One.
No involvement of your IT team is required. We provide complete support via WhatsApp, Emails and Phone. Reduce your costs in fixing issues and free up your IT team resources.
Review data in real-time. Super easy to prepare and print audit reports.

Compliance in a Click
Easy to plan and comply with rest hours rules and exceptions for MLC 2006, STCW 2010, US OPA 90, and more. Our rest hours software has an intuitive user interface with on-screen instructions.
Plan activities for 2 weeks in advance.
Highlights non conformities (NCs). Track compensatory rest hours.
Identify crew who can be assigned tasks without violating regulations.
Automatically manages International Date Line (IDL) crossing.
Easy to handle short breaks and mealtimes.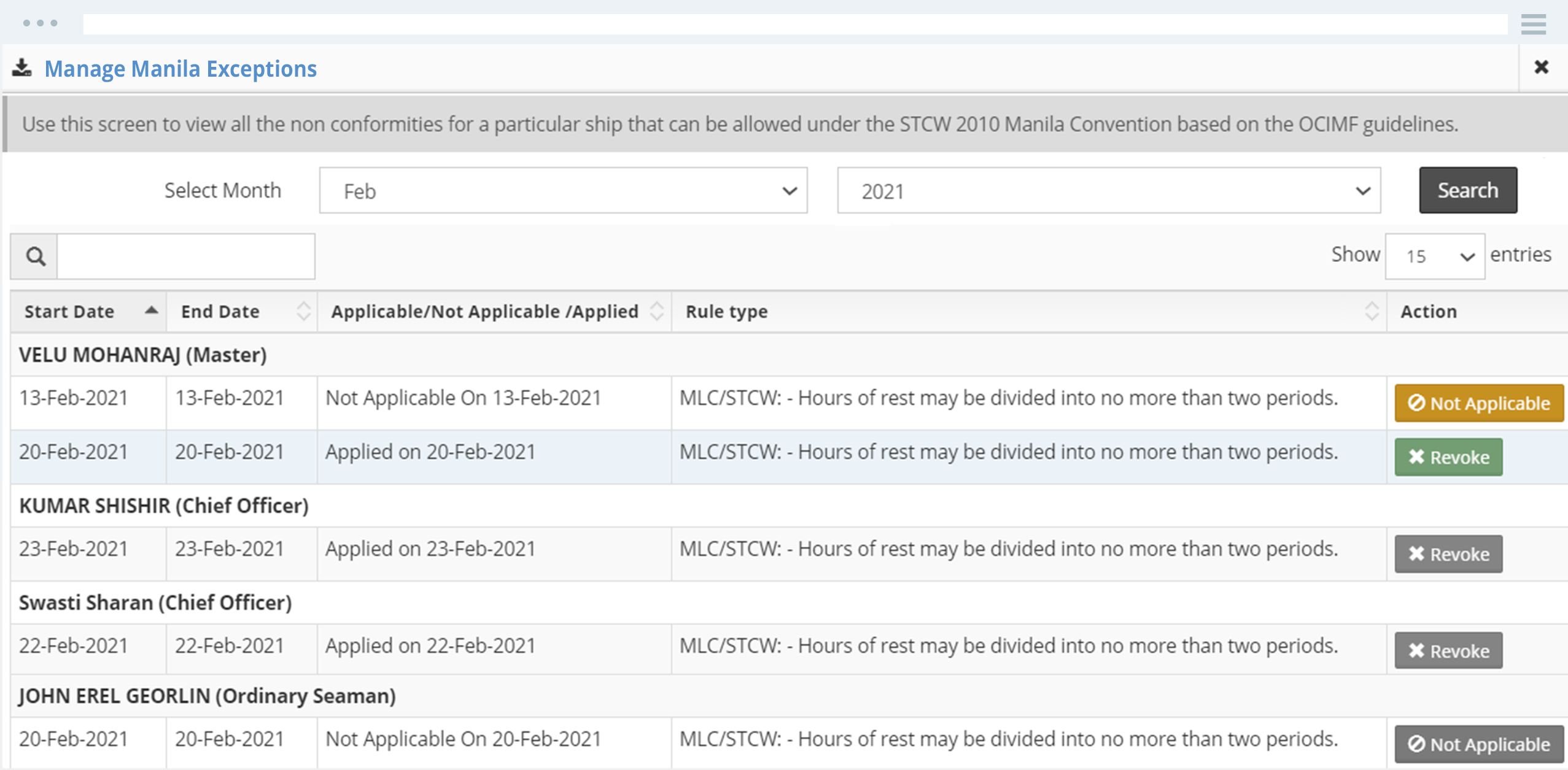 Instant Reports
It is super easy to prepare and print audit reports. No more fines and no ship detention in ports.
Working and Rest Hours Report
Non-Conformities Report
Compensatory Rest Hours Report
Uncompensated Non-Conformity Report
Overtime Reports
More Reasons to Switch to TAMS Rest Hours Solution
Unmatched Support
100% human support from experienced and friendly executives
Dedicated project manager for onboarding
Multi-channel support desk – WhatsApp, Emails and Phone Calls
Real-time support for high priority tickets
Surprisingly Low Training Overhead
Intuitive user interface
On-screen instructions at every step
Capsule sized training videos.
Exhaustive user manual
Get Access to Real-time Rest Hours Data with 100% Cloud-Based Software