Execute Vessel Inspection Remotely
Conduct Inspections Online From Anywhere, Anytime
Prevents travel during Covid
Saves 1.5 days per inspection
Integrates Seamlessly With Existing IT
Preloaded with checklists and forms | Supports OCIMF SIRE Inspection | Supports Port State Control Inspection
Some of our Esteemed Customers
Still visiting ships for vessel inspections?
Execute Vessel Inspection Remotely

with ZERO Disruption to Existing Process
TAMS Vessel Inspection software allows the inspection to be conducted from the safety of your shore office with real-time communication between the inspecting superintendent and the ship.
Preloaded checklists
Automatic report generation
Translates faults into defect list
Secure server for data protection
Data backup for 20 years
5-Steps

for Remote Vessel Inspection
Start with Remote Vessel Inspection Right Away
Plan, Execute and Manage Inspections

With Ease
Dashboards to Help Top Management Make Informed Decisions
The TAMS Vessel Inspection allows the shore office get access to real-time data related to each inspection and each ship. Graphical dashboard offers a bird-eye view of all the inspections, defect lists and workflows.
Number of planned, unplanned and executed inspections
Health score analysis in percentage graphs
Defects and their status
Fleet-wide alerts for NCs
Fleet-wide action items
Trend analysis for monthly defects found and rectifications
Month wise inspection planning and execution trend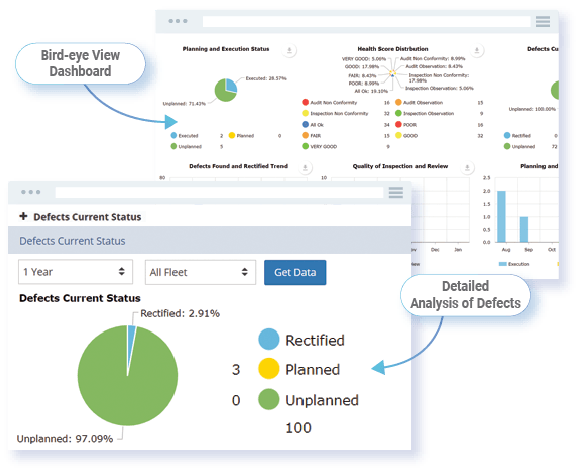 Get Access to Remote Vessel Inspection Solution Right Away