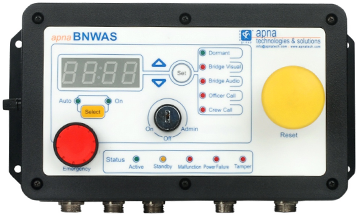 Our BNWAS is tamper proof. It has a main unit containing the microprocessor controller. This requires the OOW (officer on watch) to reset a customizable timer at regular intervals. In case the OOW does not reset the timer, an alarm is sounded on the bridge. In the absence of a reset even after visual indications and the sounding of the alarm, a series of alarms is set off at different locations on the ship. The intervals between alarms can be customized depending on the size of the ship and other factors.
Our BNWAS prevents ship accidents in the event of the possible incapacitation of the OOW.
Our BNWAS: Differentiators
The systems connects directly to a PC for easy viewing of logs
The main unit has separate visual indicators for tampering, malfunction and power failures
The system has separate output indicators for tamper, power failures and malfunction
The indicators can easily integrate with the central alarm panel or management system
Manufactured by an ISO 9001:2008 certified company
Selector unit for backup officer
Features of our BNWAS
DNV Certified
IMO, NMEA, IEC 62616 compliant
Keyswitch security protected
Easy installation
Motion detector models
Waterproof reset units for bridge wings (in select models)
Wireless communication module (in select models)
Variable light intensity for visual indication
Volume control and tone selection (in select models)
Three-way operation mode
Six hour battery backup for emergency operations
Adjustable reset time limits
Emergency call option
Event logging facility
Status indicator for tamper and system failure
RS422 port
Any number of remote reset
Automatic revert to internal battery in case of power failure
According to SOLAS regulations, all passenger and cargo vessels are required to have a BNWAS (bridge navigational watch alarm system).